Credit: Desert Mountain Golf Club
Established in the 1980s, Desert Mountain quickly gained a reputation for its resort lifestyle and premier golf destination. Only a year after the neighborhood opened, the first luxury golf homes were constructed. Throughout the years, Desert Mountain has grown to encompass six golf courses, drawing in golf enthusiasts from around the globe. In fact, the Phoenix Open has held a short twenty-minute drive from Desert Mountain. This professional golf tournament tour is held on the PGA Tour, even earning the nickname "The Greatest Show on Grass." We've pulled together some of the top luxury golf courses in Desert Mountain that you can look forward to.
Desert Mountain Golf Club
Located less than an hour's drive north of Scottsdale, the Desert Mountain Golf Club is situated in the foothills of the Apache and Lone Mountains. As one of the most exclusive golf clubs in Scottsdale, Desert Mountain Golf Club is the only private club in the world to offer six Jack Nicklaus Signature Golf Courses, as well as a seventh short executive course. It's considered one of the biggest and best golf and residential developments throughout the entire United States. Each course provides a different golf experience and was designed for players of all skill levels. This means that whether it's your first time golfing or you've been practicing for years, you can find something to suit your needs. The various courses are routed over the hillier sections of the estate, resulting in dramatic elevation changes that have been seamlessly integrated into the design. As a result, eight of the holes play downhill, and nine play uphill. With so many options to choose from, players can enjoy a new course every day. Since its first opening in 1986, no other club has come to define championship desert golf more than Desert Mountain. In addition to local acclaim, the golf clubs are also recognized on a national level. Here's a closer look at Desert Mountain Golf Club's seven golf courses.
Renegade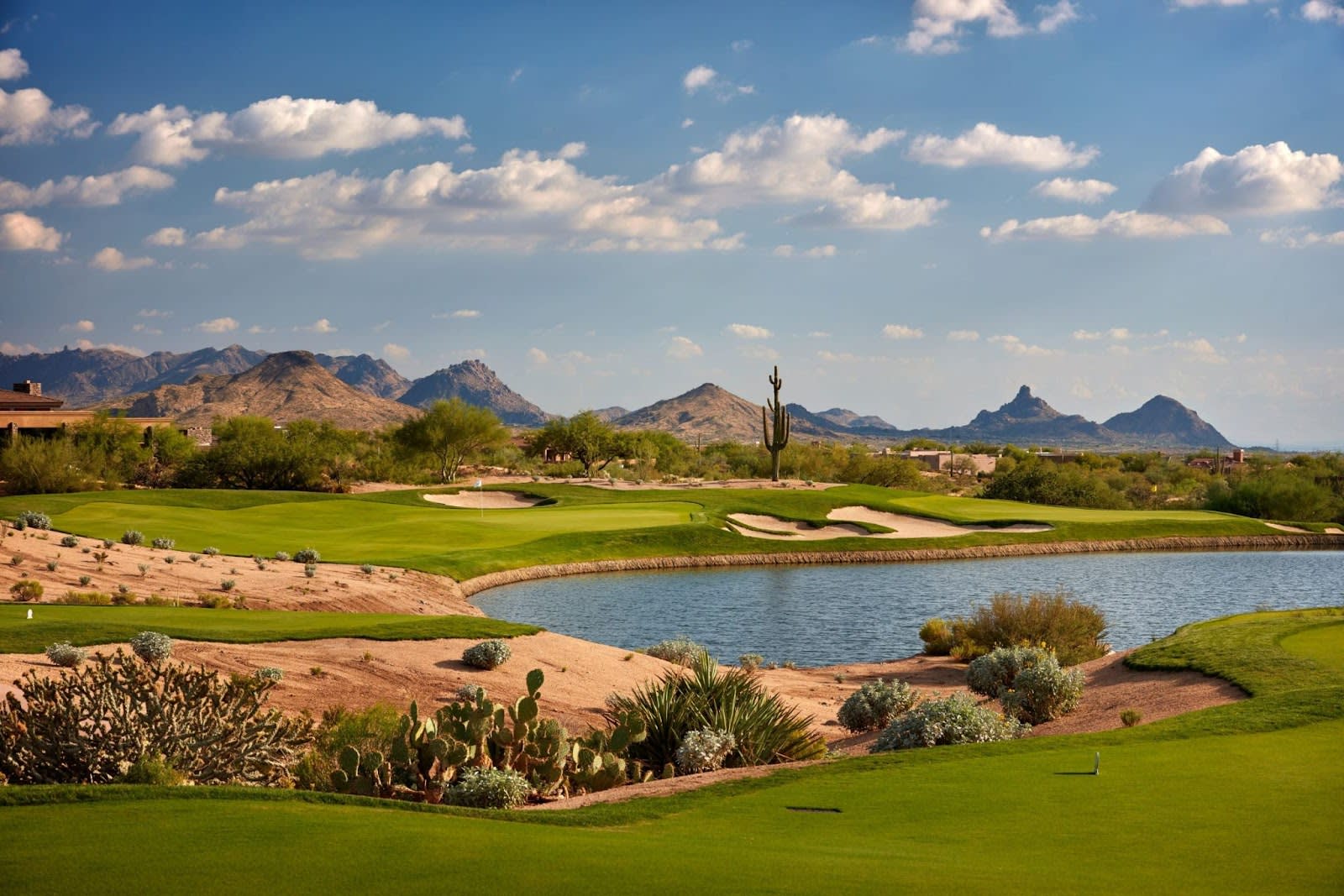 Credit: Renegade
Renegade is one of the most unique courses in the world, as well as the first course designed by Nicklaus at Desert Mountain. An expansive 7,933 yard, par-72 course, it was once called "the most versatile course in the world" by Golf Magazine. The course was uniquely constructed with two greens on every hole, providing golfers with the choice of playing to either the easier white flag or the more challenging golf flag position. Thirteen holes have a large putting surface with different areas for each pin placement and five holes are set out with separate greens. Renegade was recently renovated to include seven tee boxes and two pin placements on each hole. There are endless options and distances to help you customize your game. With the flexibility to tailor the course, it's no surprise that Renegade is one of the club's most popular courses. Despite the additional courses that followed, Renegade remains the longest course in Desert Mountain.
Apache
Apache is perfect for golfers with traditional sensibilities. Stretching over 7,211 yards, this gentle par-72 course appeals to players of all skill levels. The course seamlessly weaves its way through desert terrain, boasting rush greens, rolling fairways, and grassy catch areas. Like the other Desert Mountain courses, Apache offers a traditional desert-style layout. It's more player-friendly than other neighboring courses, but don't be deceived—Apache isn't an easy stroll. Instead, the challenge is its length and elevation changes. If it's your first time playing here, you'll quickly understand the importance of mastering your uphill or downhill shots. This particular course is also known for its "disappearing green". Built-in the old Scottish tradition, the entire putting surface is not visible. For instance, the eighteenth hole features two separate greens with the more difficult green set into a hillside, bordered by an unforgiving wash. Despite the challenges it may present, Apache still offers an enjoyable experience for all players.
Chiricahua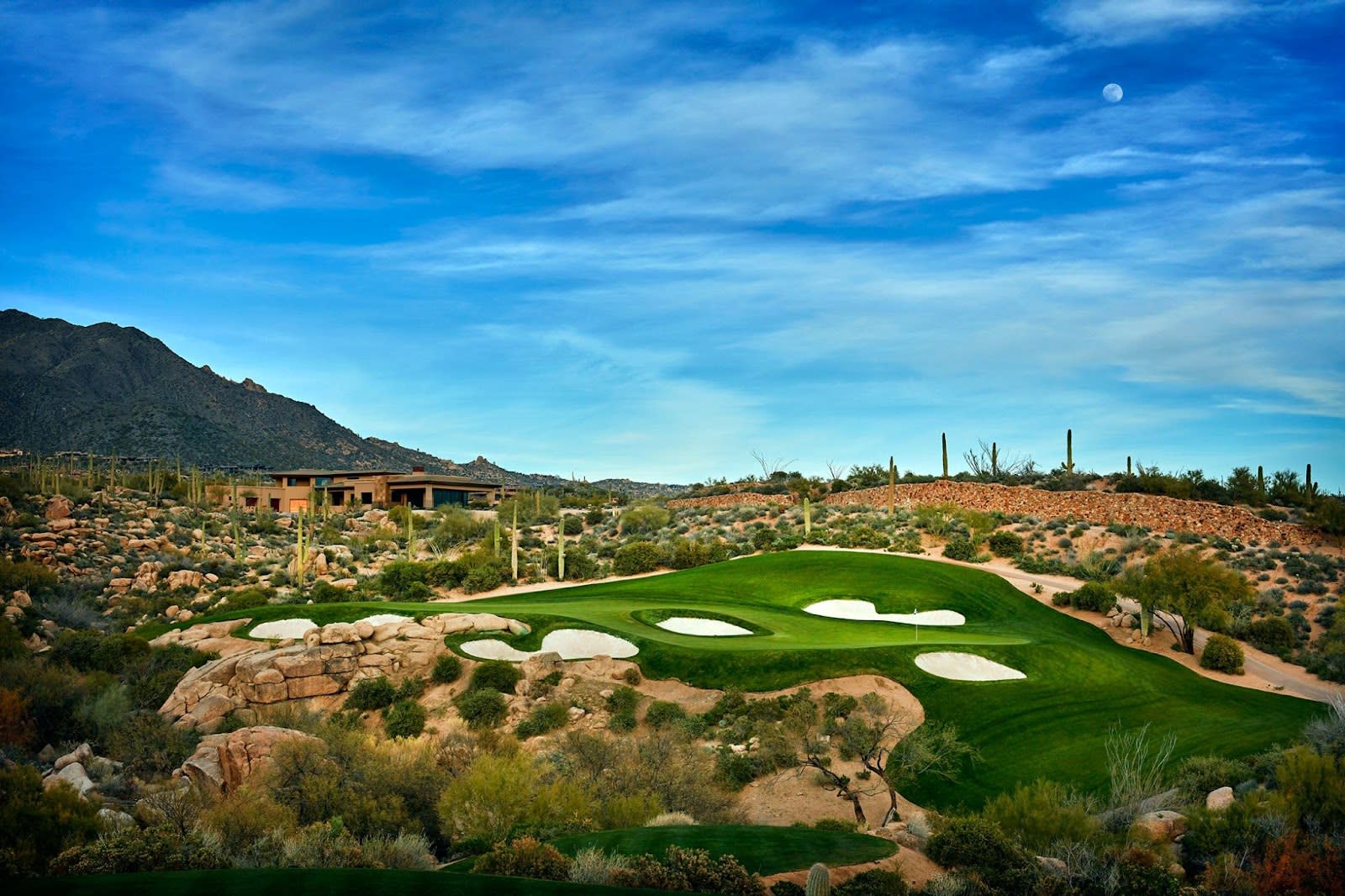 Credit: Desert Mountain
As the fifth Jack Nicklaus design, Chiricahua is perhaps one of the most highly-anticipated courses in Desert Mountain. This 7,347 yard, par-72 course is perhaps most famously known for its dramatic elevation changes and sweeping views of Metro Phoenix and Scottsdale. Once you've played here, it's not hard to understand why Chiricahua is a standout favorite amongst Desert Mountain members and their guests. Elevation changes range from 3,000 to their highest point at 3,300 feet. At such heights, the course guarantees incredible views from almost every tee. The course has eight holes that play downhill and nine that plays uphill. There's even one that plays sideways, offering an exciting combination. Chiricahua features generous fairways— a necessary ingredient for a successful dessert course, and the undulated greens add variety to the round. The course winds its way through the Village of the Saguaro Forest to the foot of the course's Old World-inspired clubhouse.
Geronimo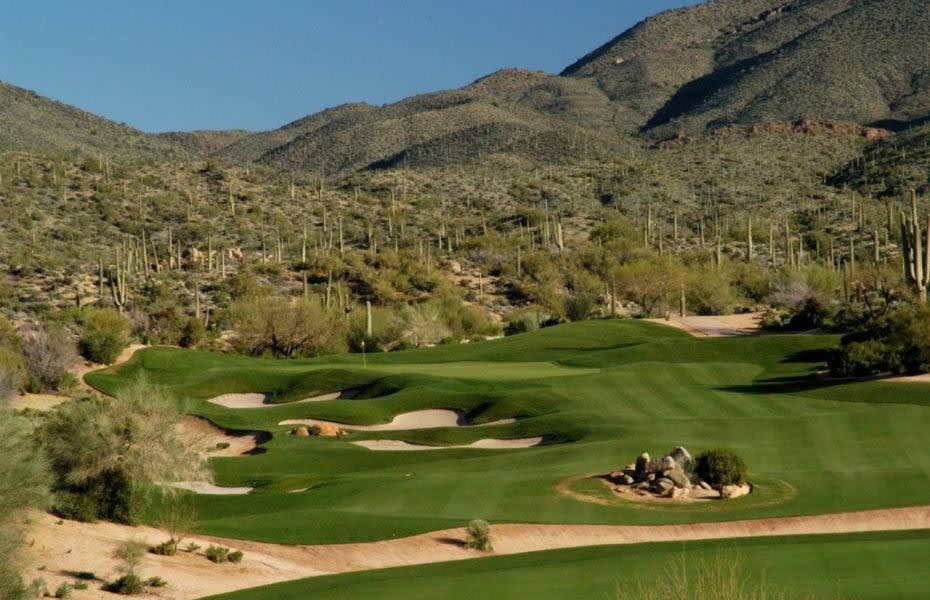 Credit: Golf Property
If you're someone who is drawn to large elevation changes, dramatic ravines, and picturesque plateaus, then you're sure to love Geronimo. This 7,420-yard course is undoubtedly one of the most picturesque courses around. It was once even described by Jack Nicklaus as a "strong-looking course". Needless to say, Geronimo is one of the most visually intimidating courses at Desert Mountain. It draws the most comparable to the Chiricahua course, which is newer but equally as dramatic. You can expect consistently challenging play as the course winds its way through nature and desert plateaus. The adventure begins at the first hole, which consists of a 570-yard par-5 that drops on a broad fairway, requiring a powerful second shot. One of the most unique features of this course is the finishing hole—a postcard-worthy par-3 over a canyon to a relatively small two-tiered green that is surrounded by bunkers and boulders. From start to finish, Geronimo will keep players on their toes.
Cochise
Cochise at Desert Mountain is the shortest of all the courses that Nicklaus designed, but don't be quick to underestimate it. Surrounded by the Sonoran Desert on all sides, this course requires a precise, thought-out approach. It offers members a true test of skill, complete with rolling fairways that are surrounded by water and desert rock outcroppings. It requires a golfer's most deft touch to master its 7,042 yards of challenging terrain and contoured greens. This course is most characterized by its par-3 seventh hole and par-5 fifteenth hole, which are undoubtedly the course's most challenging holes. The double green for these two holes sits on an idyllic island, which can be approached in two separate directions. In addition to its challenging layout, Cochise is known for its beautiful landscaping. In fact, Nicklaus himself deemed this course "one of the most picturesque golf courses in the world."
Outlaw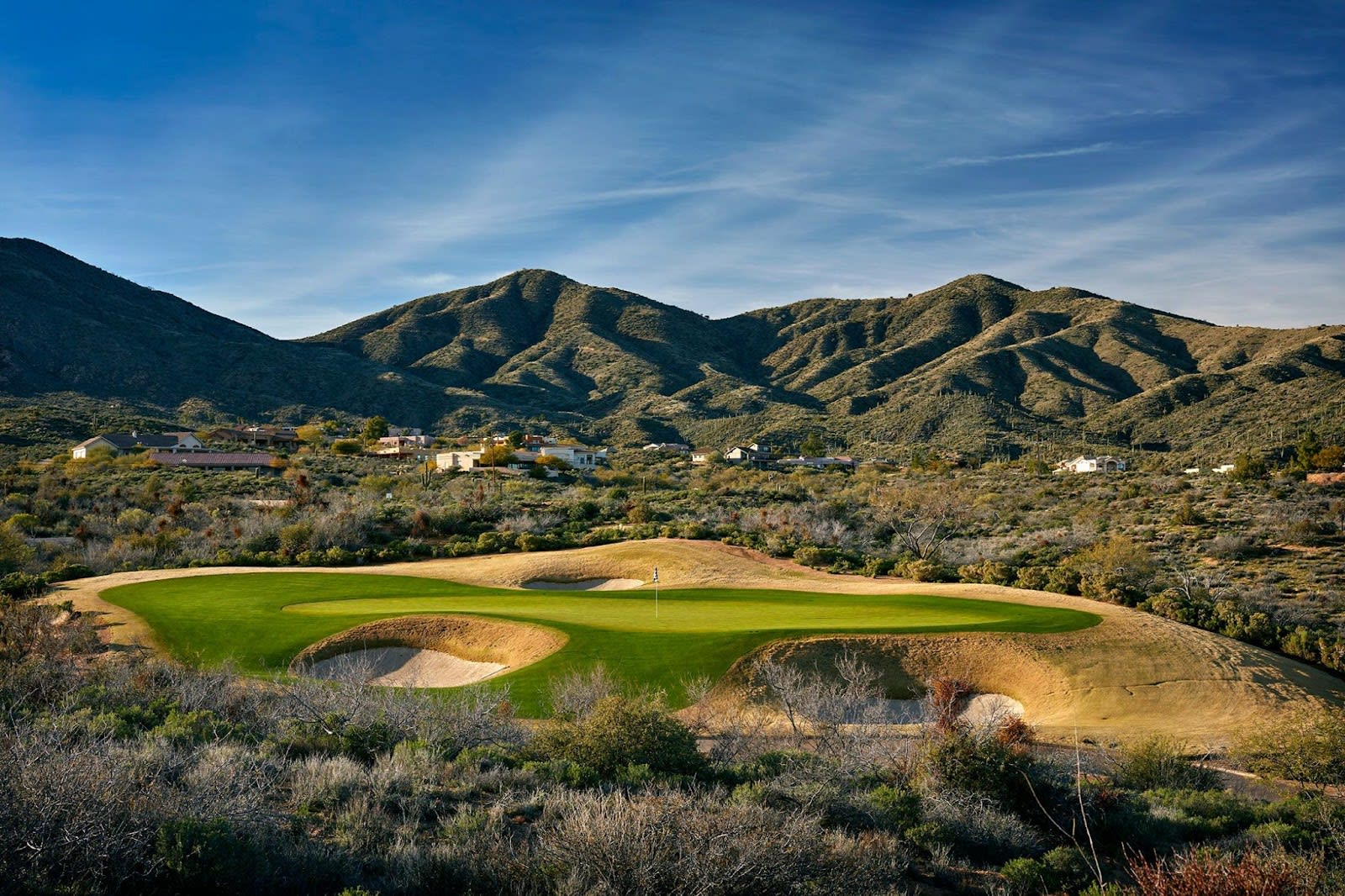 Credit: Desert Mountain
Built as the sixth and final course, Outlaw borders the Tonto National Forest. This course offers a landscape of luscious, rolling hills, native washes, and stately trees that Jack Nicklaus utilized in his design. Built to enhance the natural landscape, Outlaw boasts sweeping views of Pinnacle Peak, the McDowell Mountains, and Four Peaks. This traditional links-style course is located on the 176-acre site adjacent to the Tonto National Forest. The 7,107 yard, the par-72 course requires placement, strategy, and agility, testing the skill of each and every player.
No. 7
As the newest addition to Desert Mountain Club, No. 7 is a USGA-rated, par-54 championship course. It was created to highlight the fun, social aspects of a golf community, putting the fun back in fundamentals. No. 7 caters to all ages and skill levels, from the rookie to the experienced golfer alike. The course layout plays at a full 3,114 yards and features a special handicap system for match-play experiences. It boasts an average playing time of two hours and 45 minutes, enabling players to get their daily steps in by walking the course. The No. 7 golf course is one of the only two private par-54-rated courses in the United States, a significant distinction that has attracted a great deal of interest among golfers.
If you're ready to explore Desert Mountain real estate, contact The Power of 4 today. Whether you're looking for a short-term rental or a forever home, this talented group can walk you through the process from start to finish and help you find a place that's right for you. With a deep knowledge of Desert Mountain luxury homes for sale, The Power of 4 can help you find a house that truly feels like home.