In the most Northern point of Scottsdale is Desert Mountain, a jewel-like oasis in the Sonoran Desert. In this exclusive community, thirty villages are dotted along seven state-of-the-art golf courses. Reside at Cintarosa Ranch for the highest elevation and most privacy, or enjoy large plots and gorgeous sunset views at Cochise Geronimo Village.

Spend your days indulging in leisure activities at some of the most luxurious sports amenities available in Arizona. Get to know your neighbors at the many community events available to members, or take your family out on a variety of day trips. Below are seven Desert Mountain perks that may inspire you to relocate to this luxe enclave.


1. Golf
Desert Mountain members have their choice of seven golf courses, each featuring its own unique attributes while maintaining picture-perfect Sonoran Desert views. Six of the courses are designed by architect Jack Nicklaus, comprising the largest collection of Jack Nicklaus courses in the world. The seventh course, "No. 7," is the focal point for the ninety-acre Seven Desert Mountain community and is one of the two par 54 championship courses in the country.

Desert Mountain is home to the Renegade course, considered one of the best in Arizona and featured in three editions of Golf Digest's "America's 100 Greatest Golf Courses." Golfers who followed the TOUR Champions from 2012 to 2016 may recognize the Cochise course from the Charles Schwab Cup Championship. Cochise was also a previous location for "The Tradition" event, where designer Jack Nicklaus emerged victorious on four occasions.

Sky looking a little gray? Check the weather before you play! Desert Mountain delivers weather reports from seven separate stations around the community. Regardless of the time of year, relax and play a leisurely game of golf on green grass, thanks to Desert Mountain's exclusive "cool season" turf.
2. Award-Winning Clubhouses
Every golf course on Desert Mountain is connected to a clubhouse, with each featuring its own unique amenities. Find a variety of award-winning restaurants, a tennis complex, a fitness center, and a spa amongst many other amenities. A few standouts include the Renegade's Jim Flick Golf Performance Center, the Sonoran's tennis courts and spa, and the clubhouse at the Seven course, which was the 2019 Platinum winner for the National Association of Home Builders' "Best in American Living Awards - Community Facility."
3. Jim Flick Golf Performance Center
Dedicated to Jim Flick, Desert Mountain's Professional Golf Association (PGA) Director of Instruction from 1987 until 2005, the Jim Flick Golf Performance Center is housed at the Renegade Clubhouse. The center offers golfers some of the most advanced technology available for improving their game. A Science and Motion Balance Lab pressure plate evaluates your balance and weight transfer during a swing, while eight high-speed cameras and specialized software tracks every detail. It also hosts an Advanced Motion Measurement (AMM) 3D sensor nicknamed "the MRI of your golf swing." But that's just the tip of the iceberg.

While you're taking a few practice swings, the center's systems will record and store your metrics into the clubhouse database. PGA and Titleist-certified staff can then use this information for the purpose of finding the ideal clubs and putters that suit your unique stance, swing, and style. The Renegade Clubhouse also features a two-sided practice range, a pitching range with multiple bunkers, and a vast putting and chipping complex. You can put your new equipment to the test at your chosen location and start practicing right away!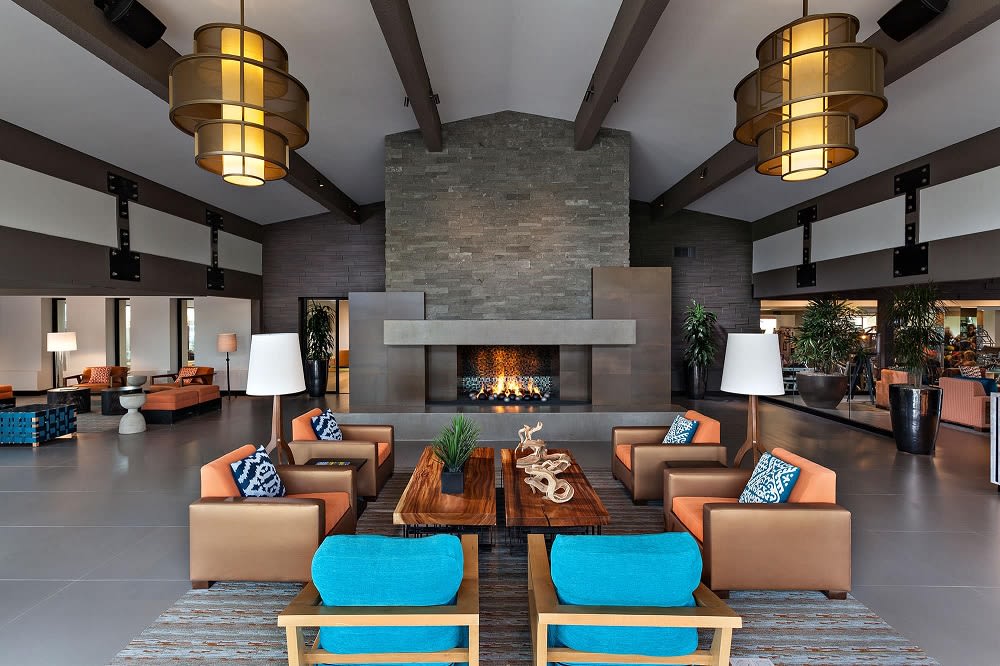 Credit: Est Est Interior Design
4. Sonoran Clubhouse
Home to the Sonoran Fitness Center and Spa, the Sonoran Clubhouse and attached Cafe Verde restaurant offers guests a variety of health and fitness amenities. Attend physical therapy, personal training, and more inside the Sonoran's uplifting environment. Spend some time in the large training room, which features TRX stations, pulley stations, boxing stations, and many other machines for rotational work. Living an active lifestyle is important at any age, and spending the time to increase strength and improve flexibility is not just for those worried about losing muscle. Having better control over your body is beneficial for improving your game, no matter the sport.

The family and fitness pools housed inside the 42,000-foot Sonoran facility host Junior Sports Academy events and seasonal camps all year round. A later addition, the Cafe Verde restaurant was thoughtfully added during renovations to provide members with a casual food spot where they can eat quickly and get back onto the course.
5. Tennis Complex
The tennis complex at the Sonoran Clubhouse houses nine courts for members to enjoy. Likely due to its luxurious upscale amenities, the complex boasts a US Tennis Court and Track Builder Association's "Outstanding Tennis Facility" award - Attend clinics, join a league, or participate in social events regardless of your skill level. Kids interested in learning how to play tennis or who are looking to improve can take part in an activity-packed tennis camp during the summer. Join a drop-in play session held every week and practice your forehand and backhand swings on one of the five modern clay courts. Three Hard-Tac courts are a great backdrop to some friendly competition on a sunny day. The star feature of the complex is a stadium grass court nicknamed the "Wimbledon of the West." It's the only court of its kind in Arizona and has won the "Court of the Year" award from Tennis Industry Magazine.
6. Privacy
The 8,000-acre, double-gated community employs a quiet safety patrol, ensuring that homeowners feel safe and secure. Owning Desert Mountain real estate offers you the additional opportunity to become a member and extend that security into your everyday lifestyle. Thanks to "members-only" exclusive restaurants, social events, and an array of leisure activity locations, your privacy is guaranteed.

Enjoy a quiet, romantic evening and make a reservation for a table in the Chiricahua wine tower, which grants views of the Chiricahua eighteenth hole, Scottsdale, and the Phoenix Metro area. Indulge in some unhindered conversation as you savor a glass of wine poured from one of a 3,000-bottle wine list.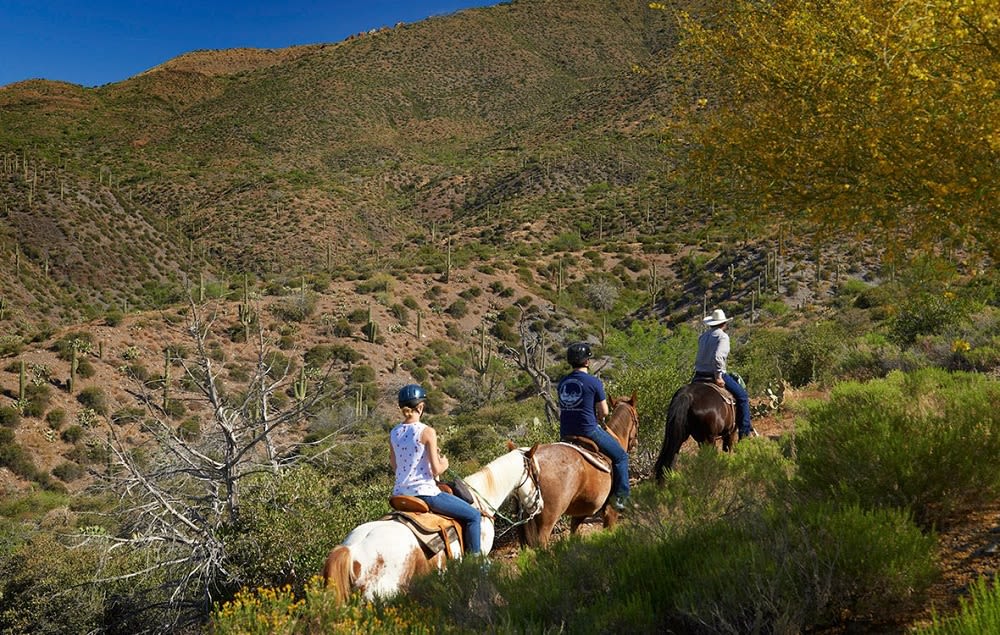 Credit: Desert Mountain
7. Day Trips
The North Scottsdale area is home to a rich history that continues to create new experiences for the present. Tour the Cave Creek Museum, Cave Creek Regional Park, and Frontier Town in Cave Creek, less than a half hour's drive from Desert Mountain. These spots are just a toe's dip into the immense and immersive history of the area. Whether your destination is nearby, like the Carefree Desert Gardens and Tonto National Forest, or afar like Phoenix's Heard Museum, taking a day trip and getting to know Arizona is a rewarding experience.
◾ Cave Creek Museum
The Cave Creek Museum is a great place to begin learning about local history. The culture and legacy of Cave Creek and the Carefree foothills may not seem immediately evident to newcomers, so take an afternoon to learn about their historical significance via the museum's indoor and outdoor exhibits. The museum has preserved artifacts inside the archeology wing and tells stories from the area's former inhabitants inside the history wing. Wander among the museum's outdoor exhibits like the Sonoran Desert Garden, the First Church of Cave Creek (established in 1948), and a restored, working stamp mill.
◾ Carefree Desert Gardens
Visit the Carefree Desert Gardens 365 days a year and view four acres of rare and interesting desert plants. While entrance to the gardens is usually free, special paid events like their Enchanted Pumpkin Garden offer additional fun! Perhaps one of the most unique features of the gardens is the Carefree Sundial. Completed in 1959, this anodized, copper-plated steel sundial is the largest in the United States and the third-largest in the world - It's 72 feet long, 90 in diameter, and rises 35 feet above the plaza. If your kids don't find the gardens as fascinating as you do, there's an interactive play space, a little free library, and a splash park to keep little ones occupied.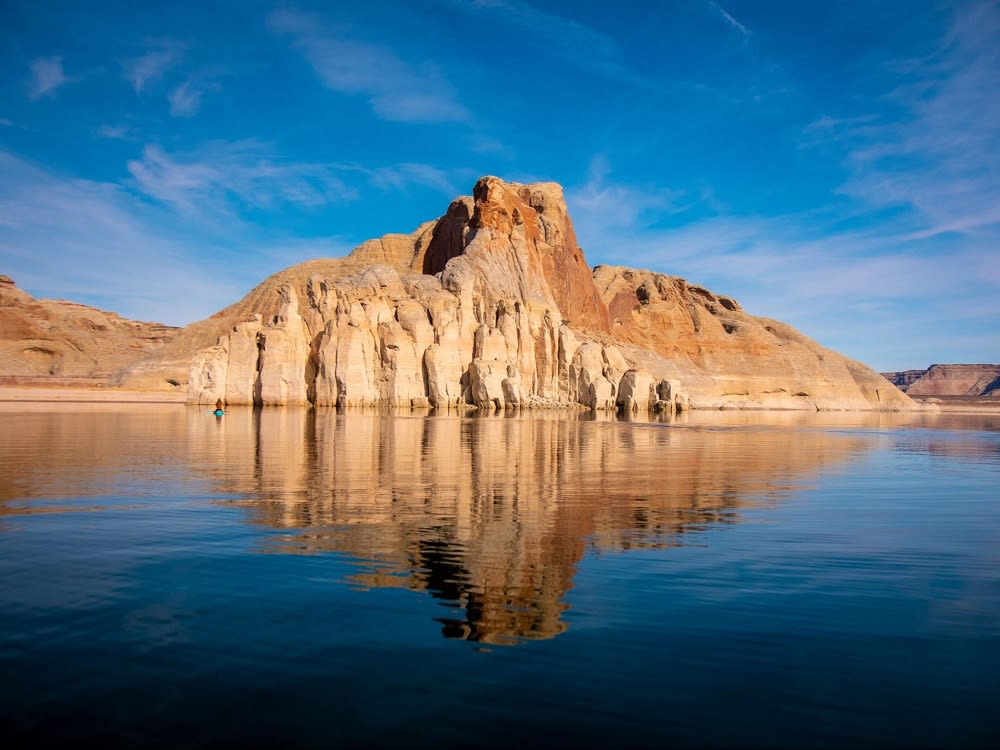 ◾ Tonto National Forest
Outdoor lovers rejoice! Regardless of your favorite outdoor activity, it's able to be done at the Tonto National Forest. Tonto's 2.9 million acres host altitudes ranging from 1300 to 7900 feet, some of the state's most prominent peaks, and a variety of environments ranging from lakes and deserts to cool pine forests. Take some time off to camp in a cabin and relish everything nature has to offer. Learn or improve skills like climbing, horse riding, hunting, and more. If you're a knowledge-seeker, make a point to visit Tonto's multiple interactive areas like the Seven Springs Picnic Site, Fish Creek Vista, and the Theodore Roosevelt Dam.
Who wouldn't want to live this dream lifestyle? Desert Mountain homes for sale are more than just houses waiting for applicants - they're invitations waiting to be taken for a life better than you've ever imagined. To start your life of relaxation and luxury, contact a Desert Mountain real estate agent today.

* Header Credit: Luxury Travel Magazine