While you may be drawn to North Scottsdale for the local golf courses, hiking and biking trails, or shopping, many people are also attracted to the area for luxury real estate. If you're in the market for a North Scottsdale mansion, you'll want to ensure your new home has a kitchen that meets your needs and reflects your style. We've gathered some of the best kitchen renovation ideas for North Scottsdale mansions. Whether you're looking for functionality or are more focused on aesthetics, keep reading to get inspired for your next kitchen renovation project!
1: Choose materials that will last
When you're renovating the kitchen in your North Scottsdale luxury real estate, it's important to choose materials that will stand the test of time. That means choosing high-quality appliances, countertops, and cabinets that will last for years to come. It also means investing in
sustainable materials
that won't need to be replaced often. As an added bonus, sustainable materials are better for the environment, which is always a plus!

Some of our favorite sustainable materials for kitchen renovation in North Scottsdale mansions include bamboo, cork, and recycled glass. These materials are not only beautiful but they're also built to last.

If you're looking for more of a luxurious feel, marble and granite for countertops and backsplashes are always classic choices, though quartzite is also a very durable and popular material. Stainless steel is another popular option for those who want a modern look.

When it comes to appliances, we recommend investing in energy-efficient models. Not only will this save you money on your utility bills, but it will also help reduce your carbon footprint.

When it comes to cabinets, we recommend choosing solid wood options with a custom design. Not only are they more durable, but they also add a touch of luxury to your kitchen.
2: Add additional spaces like a pantry and a wine room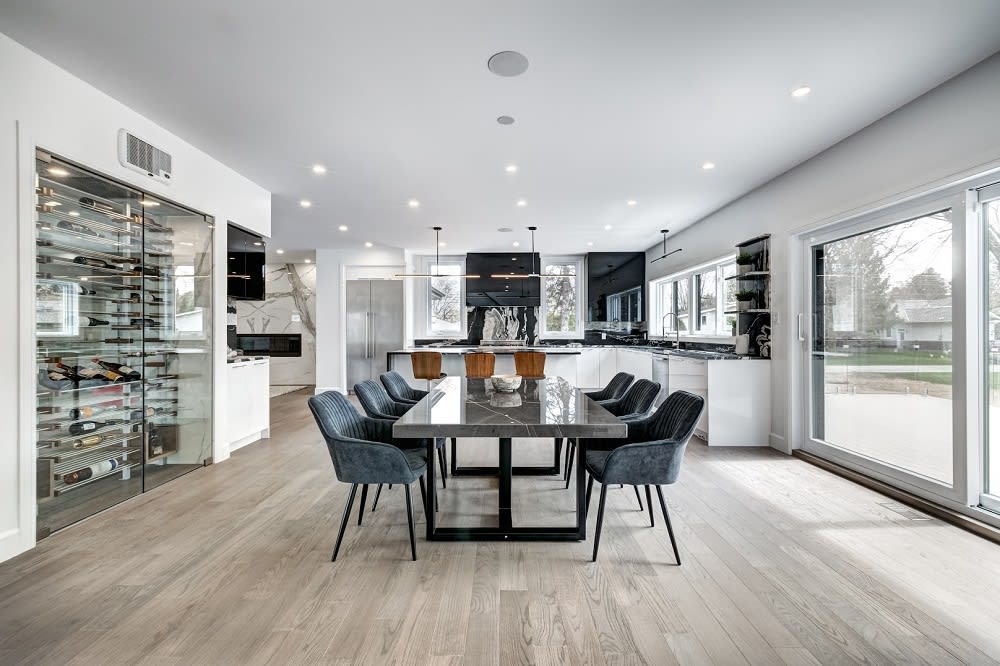 If you have the space, we recommend adding an expansive pantry and/or wine room to your North Scottsdale luxury real estate kitchen. Not only are they great for storage, but they can also be beautiful additions to your kitchen.
Pantries are great for storing non-perishable food items, cookbooks, small appliances, and more. You can
make your pantry a hidden room
by having a door that looks like it is just another set of cabinets but really leads to a secondary room behind the main kitchen.

Wine rooms are also quite popular among North Scottsdale mansions. They can also be used as a home bar, where you can entertain guests.
3: Include a focal point piece
Every kitchen needs a focal point, something that will catch your eye and make you want to spend time in the space. This could be a beautiful backsplash, or even a piece of artwork hung above the stove. "But what about splatters?!!" Not to fear! There are now
glass panels that can be automated to cover the stovetop
when not in use and raised to shield the artwork while cooking! Of course, you could also invest in a custom range hood to make a stunning statement. If you want to keep up with current trends among North Scottsdale mansions, consider adding a
light-up countertop
with under-countertop lighting that shows through your island's granite, marble, or quartzite countertop.
4: Install custom appliance panel covers
If you're looking to really take the kitchen renovation of your North Scottsdale luxury real estate to the next level, consider installing custom appliance panel covers. This will give your kitchen a more polished and cohesive look by hiding the appliances.

There are a few things to keep in mind when choosing appliance panel covers for North Scottsdale mansions. First, make sure they're made from durable materials that can withstand the heat and humidity of the kitchen. Second, make sure they're easy to clean. And third, make sure they fit your appliances snugly so that there are no gaps.
5: Add features for ease when cooking and entertaining
If you love to cook and entertain, you're sure to love the innovations in kitchen features, like pull-down shelves for top cabinets, pot-filler faucets, and more!
Pull-down shelves
If you or your young sous chef are on the shorter side, pull-down shelves are great for accessing items that are stored in top cabinets. They can also be used as a spice rack or a place to store pots and pans.
Hidden built-in step-stools
An alternative to the pull-down cabinet shelves is to install hidden built-in step-stools in your North Scottsdale luxury real estate. Consider adding a
slim model between bottom cabinets
or installing a step under the bottom cabinets that can be revealed with the sweep or tap of a foot.
Triple-functionality faucets
You may no longer need a tea kettle with a
triple-functionality faucet
! One of the coolest upgrades in kitchen features are faucets that can provide ice cold, boiling hot, and sparkling water with an easy turn of a switch!
Pot-filler faucet
Do you tend to make extra-large servings of pasta? If so, a pot-filler faucet is a great addition to the kitchen in North Scottsdale mansions. These faucets are installed above the stove, which is helpful when you are dealing with 16-quart pots for spaghetti night or making stock.
Pocket doors
If you want a photo-perfect kitchen, consider adding pocket doors to fully reveal cabinet and pantry interiors when you want them displayed. Pocket doors are great for hiding appliances or pantries when they're not in use and can be opened with a simple push.
Waterfall countertop for the island

One of the most popular trends in North Scottsdale mansions kitchen design is the waterfall countertop. This type of countertop extends from the island to the floor, creating a sleek and modern look.

Waterfall countertops are made from a variety of materials, including marble, quartzite, granite, and even concrete. They can be customized to match the rest of your kitchen's décor and can be used as a focal point in the space.
Pop-up sockets on the island
Another great feature for the kitchen island in your North Scottsdale luxury real estate is pop-up sockets. These are installed on the countertop and can be used to charge phones, laptops, or other devices while you're cooking. They're also great for entertaining, so your guests can keep their phones close by while they mingle. The best part, though, is that the sockets can be hidden seamlessly below the countertop when not in use!
6: Extend the kitchen to the outdoors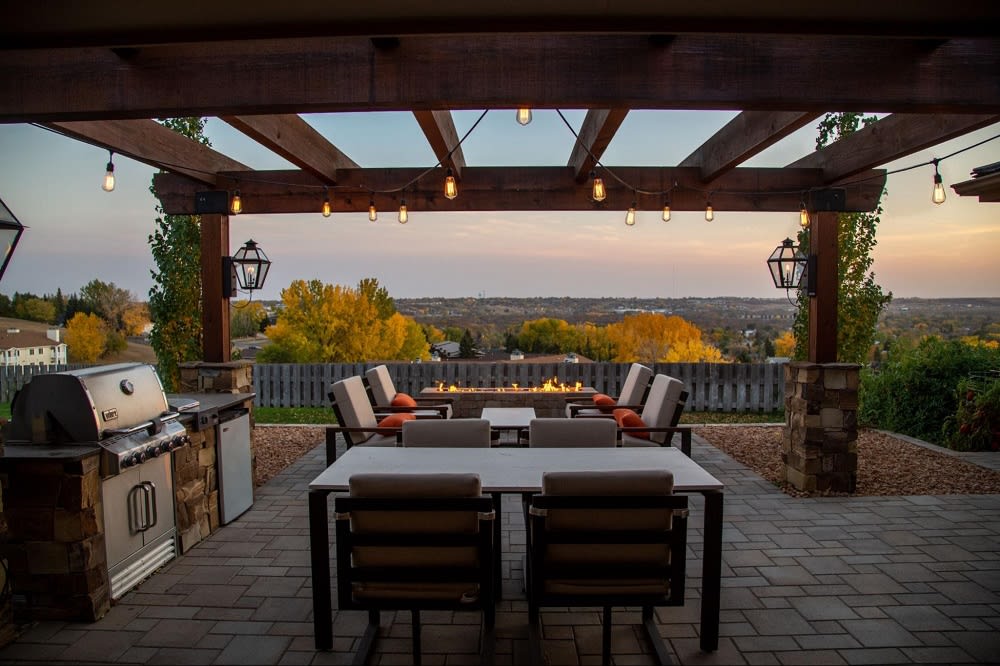 If you have the space, consider extending your kitchen to the outdoors. This is a great way to take advantage of beautiful weather and can be done by adding an outdoor kitchen or patio to your North Scottsdale luxury real estate, especially if you have a great view of the surrounding desert, Pinnacle Peak, or the McDowell Mountain Regional Park.

An outdoor kitchen is a great addition to any home, but it's especially perfect for those who love to entertain. It's the ideal place to host a summer barbecue or pool party.

A patio is another great option for extending your kitchen to the outdoors. It can be used for dining, entertaining, or simply relaxing. And, like an outdoor kitchen, it's a great way to take advantage of the beautiful weather.

No matter which option you choose, adding an outdoor extension to your kitchen is sure to make it one of the most popular rooms in your home!
These are just a few of the many kitchen renovation ideas that you can use to make your North Scottsdale home more luxurious. If you're ready to start planning your own kitchen renovation, contact one of the trusted North Scottsdale luxury real estate experts at
Power of Four
today to discuss the upgrades with the highest return on investment based on comparable sales.