Scottsdale is a lively desert city east of Phoenix that boasts some of the most luxurious destinations in the world. North Scottsdale has become a popular leisure spot for many people, especially the young white-collar crowd, thanks to the increasing number of fine dining restaurants, luxury boutiques, and chic aesthetic galleries. And the nearby
McDowell Mountain Regional Park
, a desert scape of rock formations and cacti, offers popular activities like horseback riding, hiking, bike trails, and even camping. With countless golf courses, refined spas, and classy wine bars, more people are looking to buy homes for sale in North Scottsdale. Focusing on the interior of your home will make all the difference between a drab home and a lavish one with modern furnishings. Try implementing these five interior design tips in your luxury Scottsdale home for sale to upgrade the feel of the property.
1. Keep the space light and bright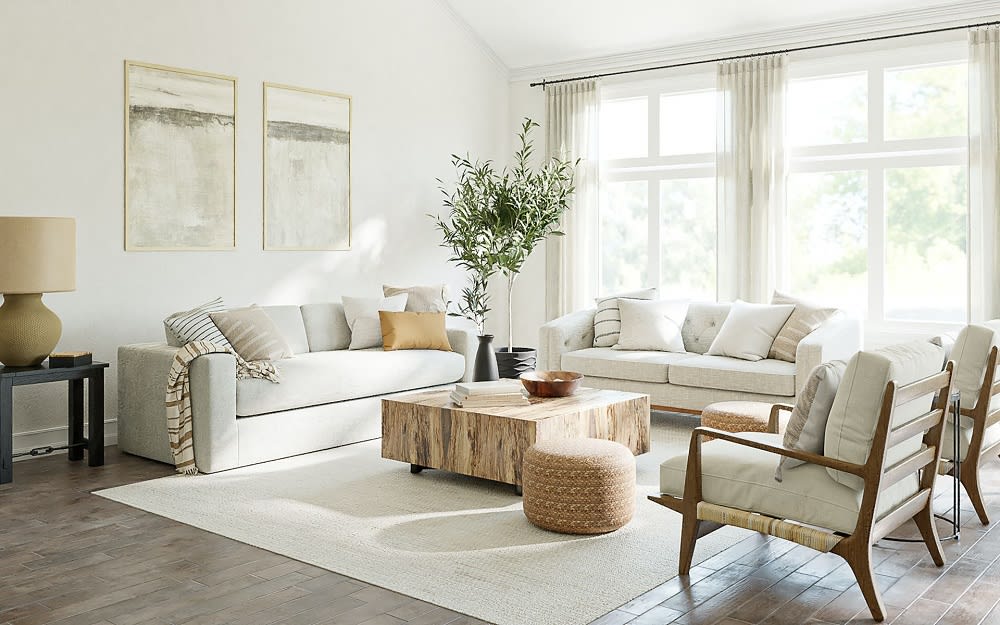 Very few people want to live in a dark and dreary home. When looking to enhance the interior of your abode, using natural light is a straightforward but incredibly impactful tool. The more areas of your home where natural sunlight can reach, the brighter the room will feel. Many potential buyers
will pay more
for properties with ample natural lighting because it makes a home feel much more open and inviting. An easy way to brighten up your luxury Scottsdale home is to make sure no large pieces of furniture are in front of the windows. When you have a couch or something similar directly in front, it blocks off some of the light entering the room, making the space feel smaller.
Bringing in as much natural light as possible will allow the home to feel more open and appealing. An old interior design trick to give the appearance of a bigger space is to place the curtain rod a few feet closer to the ceiling instead of directly over the window. Not only will this trick help to guide your buyer's eyes up to your gorgeous high ceilings, but your windows will seem taller and broader. Try to choose lighter colors or tones and only use quality fabrics, so your windows match the upscale furniture of the home.
2. Play with color
But choosing lighter colors does not mean exclusively using white! Picture yourself walking into a room with white walls, white carpet, white counters, and white furniture — it isn't visually stimulating, right? While white and all-neutral color palettes will remain a classic and typically safe design option, they can sometimes feel cold and flat. That is why the concept of contrast should not be forgotten when decorating your home. Contrast is what will draw a person's eyes all around the room with the intentional use of color.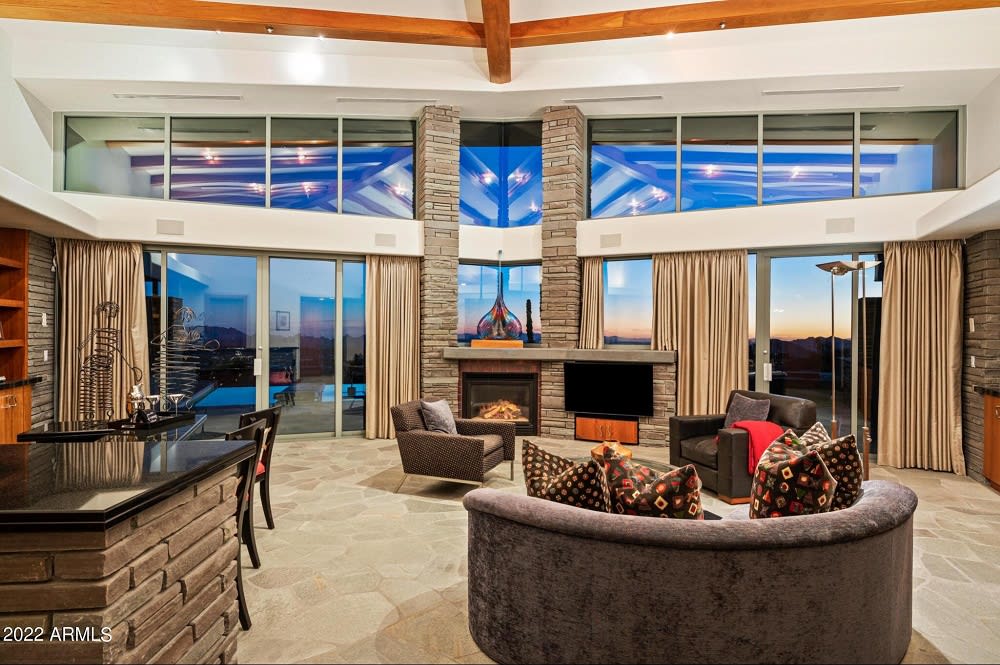 Using bold colors
will imbue the room with a vibrant and lively feel, and if you're after a more serene peacefulness, try using muted shades in complementary tones. If you want your home to have a designer feel, create contrast in the house so buyers' eyes move visually from one area to the next. Pick a few colors you feel inspired by and repeat them throughout the house — in the accents, fabrics, or paint scheme. Even if your preference is an all-white interior, start mixing in different textures and materials (think about accenting with velvet, feathers, silk, or metals like gold and silver) to add the contrast you are missing.
3. Look at your floor space and furniture layout
However broad this tip may seem, the layout of your home needs to be appealing to prospective buyers. And buyers with eyes on Scottsdale real estate are no exception. Some homes have
sold for 15 percent more
than those without open floor plans, and in modern interior design, it is a highly coveted floor plan for most buyers. Evaluate the space between your kitchen, dining room, and living rooms. Are you able to move freely between the shared spaces, or are there unnecessary walls dividing the rooms? Removing any barriers that cut off one area from the next will make your home for sale in Scottsdale appear larger, meaning you can decorate with more freedom and get a higher offer on the property. Evaluate the kind of furniture in the house and where the furniture is placed, as it may have become outdated since you first completed the inside. Identify which luxury furniture pieces will mesh with your home and speak to your style. Choose furniture or accessories that will imbue your home with elegance and class. And remember to keep your larger furnishings away from the windows! Your home should feel like a haven of style and luxury — not only for you but also for the buyers when they walk inside.
4. No more clutter
Cluttered spaces do not look graceful and can feel stuffy at best and cause downright anxiety at worst. No buyer wants to walk into a house overflowing with items in various places throughout the tour. When walking into a space, too much clutter will disrupt the open feel of the home. You can improve the spatial design of the property by removing excess items from countertops or crowded entryways and designating a discreet yet organized place for these items. For all your electronics, implement more cable management to reduce the visible eyesore of wires and consoles. Your entertainment area will feel much cleaner by organizing the cords and won't distract from the beautiful furniture you picked out.
Walk through your home and take note of places where miscellaneous items tend to pile up, like mail and magazines, and create a specific home for these items. For example, use ornamental bowls that blend into your decor but serve the functional purpose to help declutter your space. And make sure to get rid of anything you no longer use.
5. Invest in artwork for a personalized touch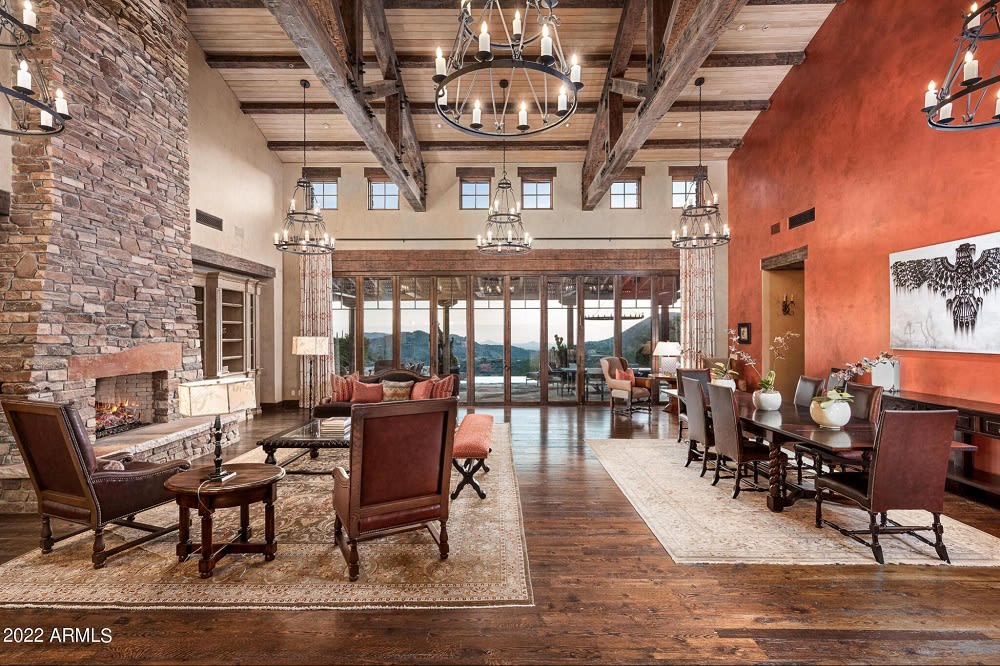 Instead of buying works that don't have similar themes and come from different places, invest in one or two statement pieces. This is the recommended option over having several average paintings or sculptures strewn about the home. Customized art is one of the ultimate symbols of luxury and will elevate the interior design of any property. You can place them in locations to help draw attention to certain home features, such as a grand stone fireplace. Choose works that speak to your style when choosing art for your luxury Scottsdale home. Pick artwork that will help tell a story throughout the house and complement your furniture. Another fantastic option is to carefully curate a gallery wall — which alone acts like a story. Building an art wall that resonates with you and showcases your taste will be a beautiful design choice in your Scottsdale home for sale.
Whether you want to start incorporating chic colors and textiles in your decor or focus on transitioning to an open floor plan, luxury Scottsdale real estate agents can provide expert advice on what many buyers want in homes today. Next time you go shopping in the luxury boutiques of North Scottsdale, keep an eye out for any catch-all designer bowls or elegant woven baskets to declutter your space, and maybe you will spot a beautiful work of art too!
Need more tips with your home for sale in Scottsdale? Talk to an expert like the realtors on the
Power of Four team
to guide you through the process.