Less than an hour from Scottsdale, Arizona, Desert Mountain is a golfer's dreamland. In this gated community, you can leisurely practice your swing, purchase custom-tailored equipment, or enjoy friendly competition year-round at one of its six Jack Nicklaus-designed golf courses. Thanks to elevation changes, Desert Mountain is roughly ten degrees cooler than the Phoenix Metro Area, making for a more temperate playing environment. There's plenty to discover about why golfers love Desert Mountain, but let's start with 4 key reasons:
1. The Variety of Golf Courses
Desert Mountain's golf members have their choice of seven golf courses, each with its own exciting attributes. Six of the courses are Jack Nicklaus designs, comprising the largest collection of Jack Nicklaus courses in the world, while the seventh course is one of two par 54 championship courses in the United States.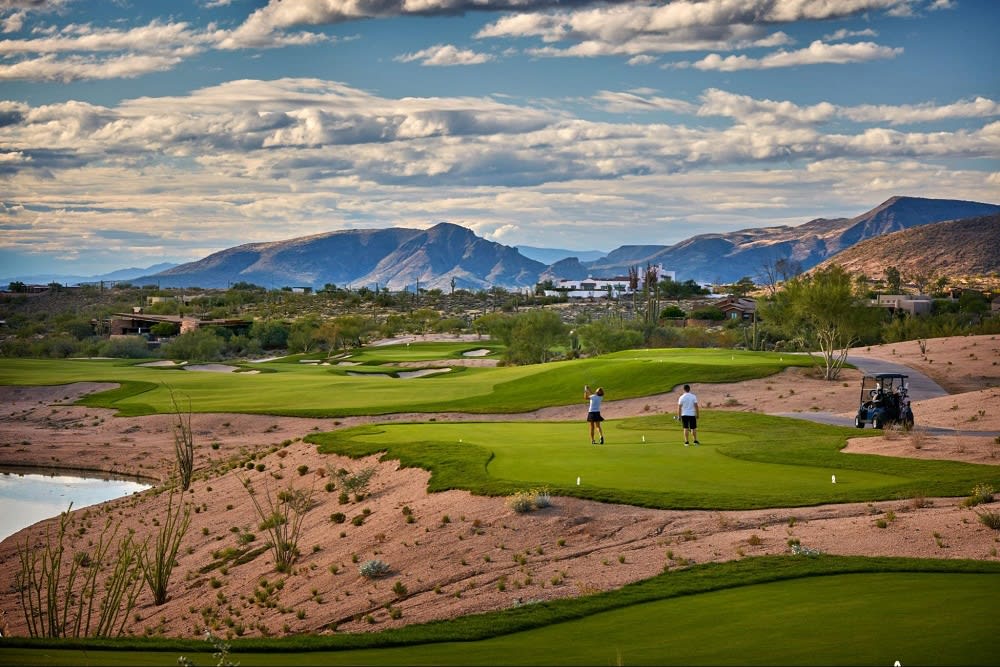 Credit: Desert Mountain
This golf course is the first of the Jack Nicklaus designs to open at Desert Mountain. Golf Magazine called it "the most versatile course in the world," as Renegade uniquely allows the golfer to choose their game difficulty via two differently marked pin placements at every hole. Depending on the path chosen, the 7,524-yard course can be stretched to 8,000 yards. Renegade has been named among Golf Digest's "America's 100 Greatest Golf Courses" on three occasions and is also renowned as among Arizona's best. Original designer Jack Nicklaus had a hand in approving the course's renovations in 2019 - preserving Renegade's authenticity as a Jack Nicklaus signature course.
The rolling fairways and dramatic rock outcroppings of the 7,042-yard Cochise golf course have hosted the last stop of the TOUR Champions — the Charles Schwab Cup Championship — from 2012 to 2016. The course also served as the four-time victory site for golf star Jack Nicklaus at "The Tradition," a TOUR Champions event that was formerly hosted at Cochise. Golfers can test their skills at its four signature risk-and-reward par 5 holes, where every shot requires precision and immense focus to navigate the contoured greens. A unique feature of the course is the double green on an island that can be approached from two directions, for the par 3 seventh hole and the par 5 15th holes.
The most visually intimidating of Desert Mountain's seven courses, the Geronimo is 7,293 yards of multiple terrains. While the first nine holes provide members with the illusion that the course will be a gentler game, the back nine holes correct that misleading notion. From the par 5 first hole until the last par 3, golfers will need to perfect their game in order to successfully complete Geronimo's most daring shots.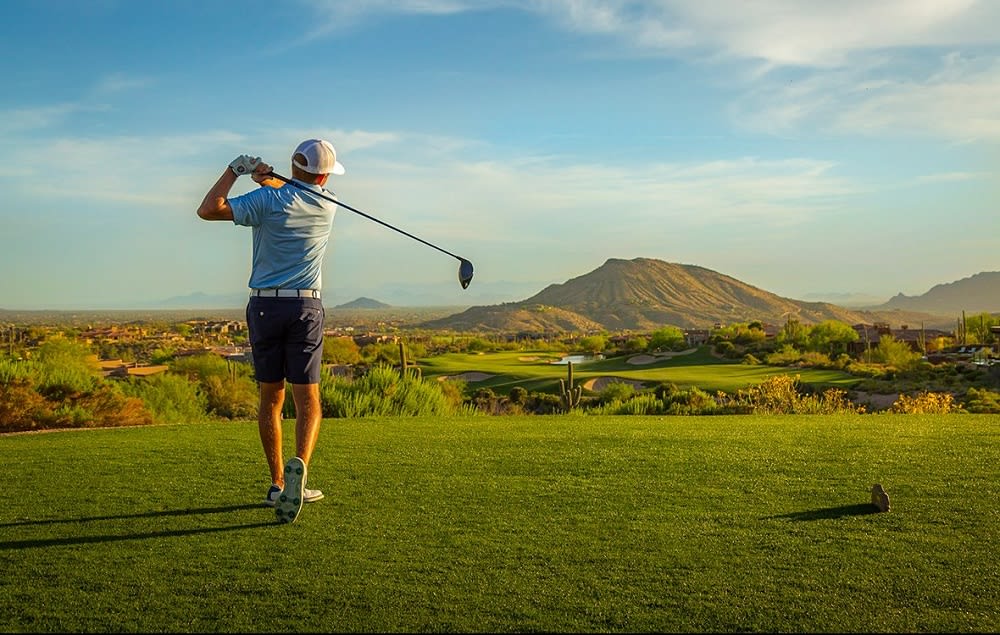 Credit: Desert Mountain

The gentle 7,211-yard Apache is a more traditional, links-style course. Golfers will play through length and elevation changes, deceptive sloping putting surfaces, and an eighteenth hole known to be unforgiving. Ample greens, subtle grassy catch areas, and plenty of rolling fairways are the ideal scenic backdrop for a relaxed game of golf.
Desert Mountain's fifth Jack Nicklaus-designed golf course is considered by many golfers as the pinnacle of his desert designs. The par 72 course combines eight holes that lead players downhill, then nine uphill, and ends with one sideways hole - taking the player on a winding path through the Village of Saguaro Forest to the edge of the Chiricahua clubhouse.
The Outlaw course opened to players in 2003, featuring a traditional links design. Golfers play on 176 acres situated adjacent to the Tonto National Forest. Take in the scenic views of local landmarks Pinnacle Peak, the McDowell Mountains, and the Four Peaks as you golf through natural washes, gentle hills, generous landing areas, and other subtle terrain features.
Serving as the focal point of the 90-acre Seven Desert Mountain community, the No. 7 plays to 3,114 yards. The course is the only one not designed by Jack Nicklaus, but instead by Desert Mountain members Wendell Pickett and Bill Brownlee. For those who enjoy the competition of match play experiences, a handicap system has been put in place. The Seven Putting Course and the putting surface of the 18th green are connected, forming a 22,000-square foot greens complex. A portion of the complex is lighted for enjoyment after dark.
2. Jim Flick Golf Performance Center
Desert Mountain Golf Members not only have access to some of the best golf courses in Arizona, but they also have unique advantages when it comes to improving their equipment, swing, and overall game. The Jim Flick Golf Performance Center is dedicated to Jim Flick, Desert Mountain's Professional Golf Association (PGA) Director of Instruction from 1987 to 2005.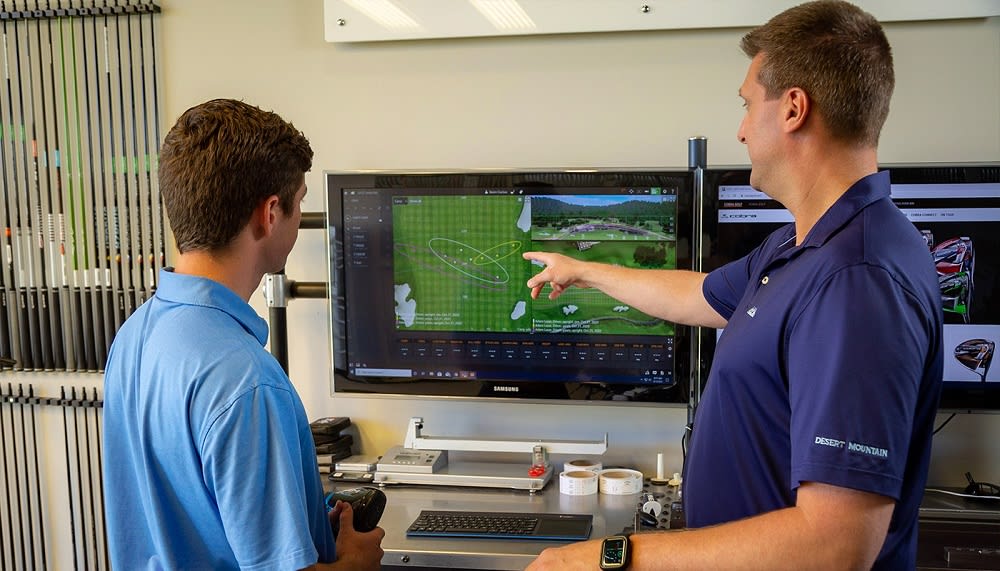 Credit: Desert Mountain


Get in a few practice swings or use some of the most advanced technology available to find and correct issues in your stance, swing, and more. 3D Doppler launch monitors track and measure ball flight, and keep records of the information in the club's database. A Science and Motion Balance Lab pressure plate evaluates your balance and weight transfer during a swing, and eight high-speed cameras track every detail of your swing with an AMM 3D sensor known as the "MRI of your golf swing."

PGA and Titleist-certified staff have been trained in how to use your data to find the ideal clubs and putters for your unique gameplay style. Not everyone can move their bodies in the same way, but looking at the data gathered and adjusting accordingly could be the make-or-break factor for achieving your top form. The Jim Flick Golf Performance Center is located at the Renegade Clubhouse, which also features a two-sided practice range, a pitching range with multiple bunkers, and a vast putting and chipping complex. Test out your new equipment and improve your skills to up your game. The Jim Flick Golf Performance Center is a Desert Mountain feature you won't want to miss.
3. Award-Winning Clubhouses
Every golf course on Desert Mountain is connected to a clubhouse, with each featuring its own unique amenities. Find a variety of award-winning restaurants, the Jim Flick Golf Performance Center, and a spa amongst many other offerings designed to improve a golfer's overall experience.
The Renegade is a full-service clubhouse with the most extensive practice facilities in the state of Arizona. Golfers can find the Jim Flick Golf Performance Center here, as well as the Hideout Restaurant. Take a break from the green and dine on traditional breakfast and lunch options, or relax after a busy bay with the sunset cocktail menu.
This shared clubhouse features Frank Lloyd Wright-inspired architecture and services both the Cochise and Geronimo golf courses. Appreciate the Sonoran desert views as you dine at your choice of three different restaurants. When you're done eating, browse through the retail boutique, update your equipment at the pro shop, or get changed in the gender-separated locker rooms and head out onto the green.
The casual lounge and elegant restaurant at the Apache clubhouse have a relaxed ambiance, welcoming guests inside for a drink and an exquisite meal. Replace old apparel or purchase new golf accessories at the upscale golf shop.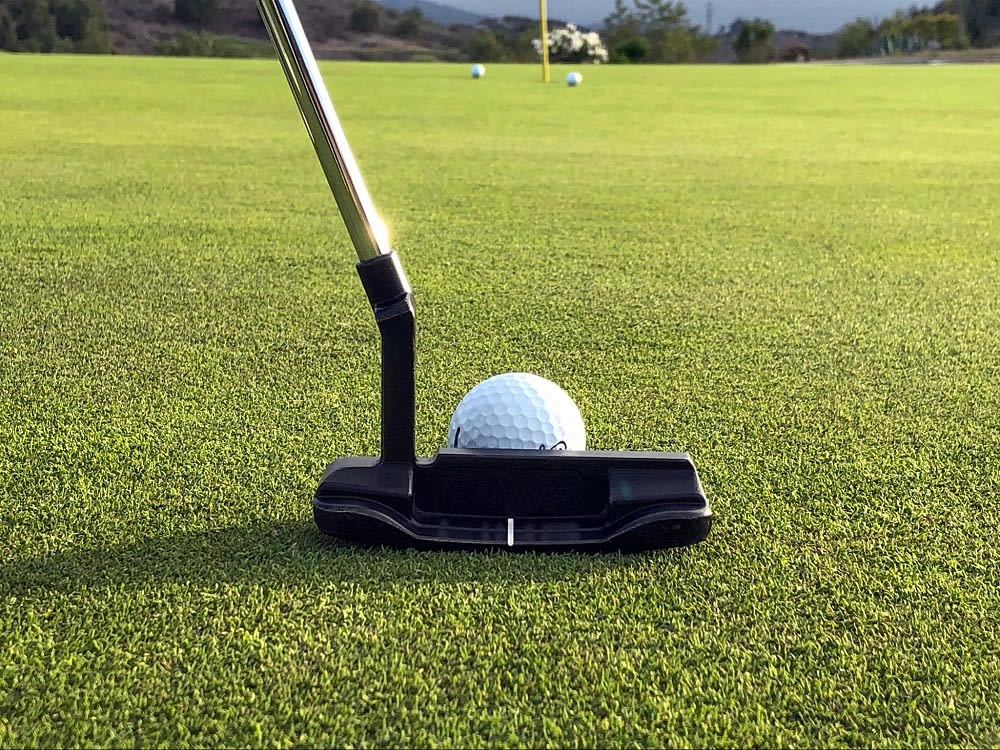 The Sonoran Clubhouse is home to the Sonoran Fitness and Spa Center, an uplifting environment that surrounds guests with physical therapy, personal training, and various fitness opportunities. The complex's 42,000 square feet includes a large training room with TRX stations, pulley stations, boxing stations, and other disciplines for rotational work. Golfers who put in extra exercise increase their strength, improve flexibility, have higher endurance, and have better control over their bodies. If you're hungry after training, sample the healthy food menu from the Cafe Verde restaurant.

Play a tennis match with your close friends on one of the Sonoran's nine tennis courts. There are five state-of-the-art clay courts, three hard courts, and a stadium grass court known as the "Wimbledon of the West." Families looking to swim or members who want an aquatic fitness routine can find heated pools at the Sonoran year-round.
This clubhouse is situated at 32,000 feet on a hillside and is a beautiful desert recreation of an Old World Italian olive vineyard and farmhouse. The Chiricahua is considered by golfers to be the jewel of Desert Mountain's six clubhouses. Italian restaurant Constantino's or the casual Chiricahua Grill await golfers looking to enjoy a meal after a long, exhilarating round of golf. Reserve a table inside the wine tower, which offers a 3,000-bottle wine menu. There, you can sip on your favorite red, enjoy some good conversation, and take in views of the Chiricahua golf course's eighteenth hole, the city of Scottsdale, and the Phoenix Metro area.
Modern Mexican cuisine awaits weary golfers who visit the Arizona Grill, a restaurant located at the Outlaw Clubhouse. From the clubhouse's wide breezeway, authentic Southwestern artwork and themes carry through the rest of the full-service golf shop, the restaurant, and the practice area. Gather around the outdoor fireplace after you're done fine-tuning your short approach shots at the specially designed practice area.
As the 2019 Platinum Winner for the National Association of Home Builders' "Best in American Living Awards: Community Facility," the 8,900-square foot Seven clubhouse does not disappoint. Its indoor-outdoor gastropub provides guests with the option to sit at the bar inside or be seated outside for a casual and elegant experience. Additional clubhouse amenities include heated patio floors, five fire pits, two fireplaces, and two bocce ball courts to supply members with the utmost level of leisure and satisfaction.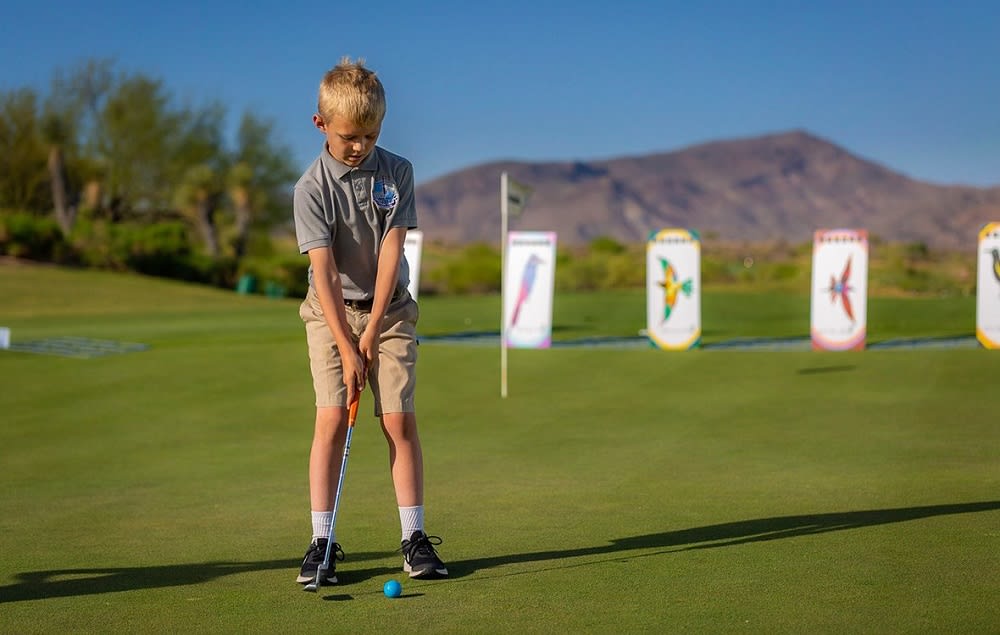 Credit: Desert Mountain
4. Junior Sports Academy
Oftentimes, kids want to be just like their parents. If your child is looking for some help to improve their golf game, the Junior Sports Academy is an excellent option. Golf Academy training sessions provide your child with experiences that inspire curiosity in golf, while immersive play promotes a child's sense that they have a place in the game. The complex game of golf is presented in a way that encourages their own exploration and feeling of ownership.

All students participate in team-based challenges and activities designed to bring out their creativity, while also improving their engineering capabilities, communication, skill development, problem-solving, and love for the game. If your child wants additional, more focused direction, additional training is offered. The technique-driven approach centers around fewer games, more instruction, and more drills to improve on-course focus. If your child has the talent for professional golf, they'll leave tournament-ready.

Aside from this short list, Desert Mountain contains so many other unique features exclusive to its members and homeowners. Contact a Desert Mountain real estate agent today, and explore the vast amount of options on offer when viewing Desert Mountain homes for sale.


*Header Image Credit: Desert Mountain Homes